I don't mind reveling in childhood nostalgia. And we all know I indulge in plenty of less-than-Emmy-worthy TV movies.
Mash those two things together and what do you discover? I am a big fan of ABC Family's sitcom
Melissa & Joey
.
This show actually premiered while I was away on my mission. But thanks to the magic of Hulu, I found it the summer after my return and got hooked after viewing the first set of episodes.
Melissa & Joey
stars Melissa Joan Hart and Joey Lawrence. They also work as executive producers on the show, and Melissa has even directed a few episodes. These actors have more in common than their decently funny ABC Family Original Movie,
My Fake Fiancé.
Both Melissa and Joey have played major characters on some cult favorite family sitcoms.
Take Joey, for instance. He started out as
Joey Donovan
on
Gimme a Break!
(a sitcom I willingly admit knowing nothing about).
Gotta love the hair. And the family resemblance.


Later he played Mayim Bialik's older, somewhat brainless brother,
Joey Russo
.
Whoa.
The role I remember him best for is
Joe Roman
on
Brotherly Love
. This series also starred Joey's two real-life brothers, Matt and Andy. (Insert swoon here for the Lawrence brother of your choice.)
Andy's haircut looks so familiar...
Based on previous experience, it shouldn't shock you that Joey's character on
Melissa & Joey
is also named Joe:
Joe Longo
. Why mess with a good thing?
Melissa has fewer starring roles than Joey, but her series' had somewhat longer lives, so in my book they're about even.
Melissa first appeared in the Nickelodeon series
Clarissa Explains It All
. This show featured Zack Morris-like asides directed straight at home viewers. It also predates
Dawson's Creek
as a teen series where a best friend of the opposite sex enters the main character's bedroom through a window.
Double whoa. So many neons.
And who can forget Melissa in
Sabrina, the Teenage Witch
? I myself was obsessed with
Sabrina, the Teenage Witch
from second through sixth grade.
My best friend and I collectively swooned over Sabrina's boyfriend, Harvey--though, looking at him now, I'm not sure why. I guess he was just one of our first major forays into the world of celebrity crushes. I'm happy to say my taste has gotten better even if the intensity of my crushes hasn't decreased as I've aged.
With all of that behind them, Melissa and Joey make the perfect "Will they? Won't they?" couple for a formulaic multi-camera sitcom. In a sense,
Melissa & Joey
brings back the feeling of ABC's old programming block, TGIF.
Boy Meets World, Step By Step, Family Matters, Full House, Hangin' with Mr. Cooper,
and
Sabrina, the Teenage Witch
all featured prominently in the golden age of TGIF. Even though Joey never appeared in a TGIF sitcom, his roles on
Blossom
and
Brotherly Love
seem so similar they might as well have been TGIF material.
Plus,
Melissa & Joey
is essentially
Who's the Boss?
for the new millennium.
Melissa's the career-minded city councilwoman raising her jailed sister's teenaged kids, and Joe's the masculine nanny who can't find work because of his connections to a financial scandal. Take away the live-in grandma and
it's the same show
.
In case you aren't already hooked on
Melissa & Joey
like me, I'm giving you a list of the 10 best episodes so far, a sort of Must-See List for anyone who loves or wants to love this show.
10. Toledo's Next Top Model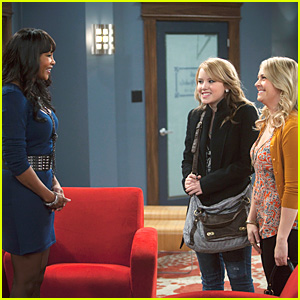 It feels strange describing this episode first since it doesn't feature a prominent Mel and Joe story line. But I find myself laughing at small moments in this one, the kind of moments that make
Melissa & Joey
so enjoyable.
Why It's Good: Joe coaches Ryder on how to get a girlfriend.
Important Events: Ryder's girlfriend, Holly, makes her first appearance.
Guest Star: Vivica A. Fox as a modeling agent who recruits Mel's niece, Lennox.
9. Teacher/Teacher
Guest Star: Andrew Lawrence as Ryder's history teacher
Why It's Good: Andrew Lawrence. He tells jokes, he sings, he wears hipster-ish glasses. I submit that he's never looked this good.
Important Events: Did I mention Andy Lawrence is in the episode?
8. Waiting for Mr. Right
Why It's Good: Not-so-subtle hints about Mel and Joe's similar interests and Joe's willingness to run to her rescue mean this episode keeps you cheering for the romantic tension between the stars.
Important Events: Watch for the vending machine scene. One of my favorites.
Guest star: Christine Lakin of
Step by Step
makes her first appearance as Mel's old friend
7. Dancing with the Stars of Toledo

Why It's Good: Joey Lawrence and Melissa Joan Hart both did stints on the actual
Dancing with the Stars
before returning to scripted sitcoms. Enjoy watching what would have happened if they'd been paired as celebrity dance partners.
Important Events: It's not written into the episode, but after I watched this episode I knew I was hooked on the show.
Guest Star: Mark Ballas from the real
Dancing with the Stars
6. Joe vs. the Reunion

Why It's Good: Melissa tries to rescue Joe from looking unsuccessful at his college reunion--with not-so-awesome results. Listen for a reference to their first joint venture,
My Fake Fiancé.
Important Events: Mel and Joe's first kiss, albeit a "fake" one
5. All Up in My Business
Why It's Good: Concerned about Mel's secretive behavior, Joe uncovers the truth behind her mysterious credit card charges. And gets her a thoughtful present at the end of the episode.
Important Events: Shirtless Joe (from Hannibal, MO--I couldn't help myself with the
Damn Yankees!
reference.)
Guest Stars: More of Ryder's girlfriend, Holly. He gets her an unfortunate birthday present. Also, the introduction of Lennox's future boyfriend with a pretentious name: Haskell.
4. Breaking Up Is Hard to Do
Why It's Good: Mel asks Joe to make her boyfriend more manly so she can break up with him without crushing his spirit. But when he starts acting more like Joe, Mel suddenly finds she's more attracted than she thought. My love for this episode actually has less to do with Melissa and Joey and more to do with the hilarious transformation portrayed by the actor playing Mel's boyfriend.
Important Events: Melissa Joan Hart channels her inner Melissa Gilbert by wearing a dress clearly inspired by
Little House on the Prairie
. Also, Ryder turns the tables on Holly after learning she cheated on him. And a
Dancing with the Stars
reference!
Guest Star: The guy playing Mel's boyfriend! Seriously, I want him to star in my first made-for-TV Christmas movie.
3. Going the Distance
Why It's Good: Mel faces a crisis when her young entrepreneur boyfriend gets offered a job in Italy.
Important Events: Joe unveils how well he knows Mel when he gives her boyfriend gift-buying advice.
Guest Star: Scott Michael Foster, that guy from
Greek
with super-ugly hair but a fun personality.
2. The Settlement
Why It's Good: Mel and Joe are more expressive of their attraction to one another when Joe reveals he can leave his post as nanny.
Important Events: Mel and Joe (kind of) agree to go on a date with each other. Mel kisses Joe, but dismisses it as a good-bye.
Listen for: Joey saying "Whoa." To. Die. For.
1. The Other Longo
Why It's Good: Joe's brother comes into town and hits it off with Mel. Jealousy ensues, but Joe hedges his feelings for Mel.
Important Events: This isn't vital to any overarching plot line, but I LOVE LOVE LOVE the moment when Joey and Matt do their "Amazing Longo Brothers routine." TV gold, people.
Guest Stars: Matthew Lawrence! Matthew Lawrence! Matthew Lawrence!