I know, I know. Christmas is over. And it's been weeks since I posted a made-for-TV holiday movie review. But there was a little thing called Finals Week, followed by a littler thing called Post-Finals Week which led up to actual Christmas. But you'll be happy to know, I didn't forget you, faithful readers. I'm back.
Today's post (tonight's? it's almost three in the morning as I'm writing this) spotlights the best and worst of the movies made by ABC Family. (Channel tagline: A New Kind of Family. Does anyone know what they mean by that? I sure don't.)
This year's fare was actually quite satisfactory because they followed the tried-and-true formula of picking attractive, well-known, but still B-listed actors to portray virtually flawless male leads opposite women that you hate not just because you want to be them but because they're actually annoying.
Case-in-point:
Desperately Seeking Santa
stars That One Guy from That One Show with Amanda Bynes and Jennie Garth, commonly referred to as
What I Like about You
. And if you're like me, what you like about that show is That One Guy, legally referred to as Nick Zano. (Vince, if you're still lost. And if even that doesn't help, just see the picture below.)
The premise of the movie is gag-able, so I won't apologize for it. A shopping mall in a low-income area of Boston replaces the traditional Santa by holding a talent search for "Sexy Santa." Of course, Nick Zano enters to earn the attached $10,000, wins, and then has to have desperate housewives sit on his lap all December long while wearing a Santa suit and no shirt. Don't ask who approved this.
In
Desperately Seeking Santa
, Nick plays a character with these flawless qualities: he's trying to save his family's Italian restaurant (think
Return to Me
knockoff), he's saving for med school and is a licensed EMT, he's good with kids, he can dance (well, he tries), he's nice and sweet, and, oh yeah, he looks like Nick Zano. His counterpart is one of those corporate ladder-climbing type ladies too blind to see that her boyfriend is not worth her time and doesn't like her for who she is. You won't like her, but you aren't watching because of her.
Best scene
: Let's just say I'm adding "private carousel ride" to my list of romantic kiss locales.
If you liked it
: Check out Nick Zano in
Everything You Want
, another made-for-TV holiday movie with a major B-list cast: Eric Matthews from
Boy Meets World,
Darcy from the pink
Pride and Prejudice
, K.C. Clyde of
The Best Two Years
and
A Golden Christmas 2
. But be warned: this movie is about a girl who literally dates her imaginary boyfriend.
Of course, in the world of B-listed actors with major fan bases, you can't get much bigger than Mark-Paul Gosselaar, aka Zack Morris of
Saved by the Bell
. And if you didn't know that already, shame on you. He's the male star of ABC Family's second attempt at made-for-TV magic this season,
The 12 Dates of Christmas
.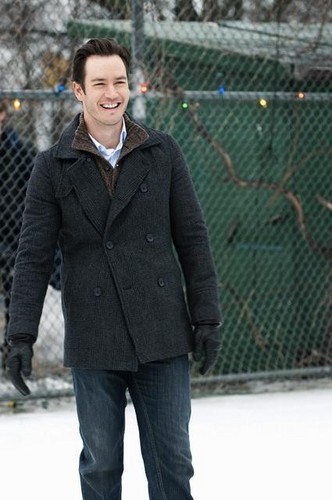 The premise of this one is basically just a
Groundhog Day
reboot with one down-on-her-luck career girl reliving Christmas Eve twelve times in a row, including her blind date with Mark-Paul Gosselaar. The only thing I couldn't figure out was why she was complaining about repeatedly going out with Zack Morris. Next time I have the chance to go on the same date with him twelve times in order to get it perfect . . . Sign. Me. Up.
In fact, Mark (or is it Mark-Paul? That sounds like a brand of sunglasses) is the best part of this one, since he's the perfect first date and you automatically feel for him since they've written him as a widower. (Wise move. Who would believe that he's still single? And if he were divorced, I'd be so mad that he walked out on Kelly Kapowski. So. Mad.) And he's a landscape architect. And a hockey player/hockey coach to underprivileged kids. So what if it's not realistic. It's made-for-TV.
Amy Smart is actually a much more tolerable female lead than the actress in
Desperately Seeking Santa.
The major failings of
12 Dates
are that it fails to make the conventions of how she gets back into Christmas Eve less predictable and formulaic like
Groundhog Day
. I was so sick by the end of the movie of her falling asleep watching the home shopping network and waking up on the floor of a department store.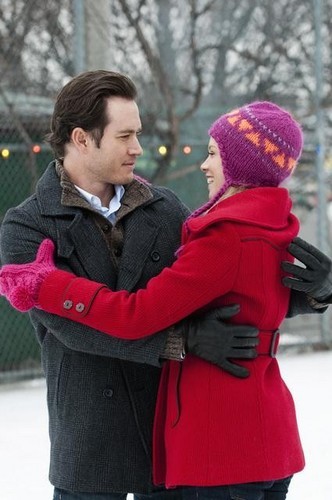 Best scene
: No amazing ones here, but it did make me wish I'd been able to go on that ice skating date this summer.
If you liked it
: Check out some
Saved by the Bell
DVDs from your local library. Or find the reruns on TBS.
These two are only this year's offerings. Along with Hallmark Channel and Lifetime, they're the biggest contributors to this genre, so they have plenty from years past. Of those, I've ranked them and given you a quick blurb, but if you're anything like me. You won't be able to just take someone else's word for it, even on the Stay-Aways. You'll want to suffer through every painful minute until you just can't take it anymore.
Must-Sees
Holiday in Handcuffs
: I actually don't think this movie is all that great as a made-for-TV Christmas movie, but I just love the concept of Sabrina the Teenage Witch kidnapping A.C. Slater for the holidays. And forget the creepy-weird Stolkholm Syndrome Mario Lopez experiences. Just watch it because you know you want to. I won't tell.
Not-Too-Shabbys
Christmas in Boston
: Long-time pen pals discover that they'll finally be in the same city and decide to meet--except they each sent pictures of their best friend. You can surely see what's coming, but this is a great opportunity to see Gia from
Full House
(don't even attempt to watch her in
The Gift of the Magi
, even though it has the guy from Nickelodeon's
Snow Day
) and that blonde super spy chick from
The Famous Jett Jackson
and assure yourself that they're not entirely starving actors just yet.
If-Time-Permits
Snow
and
Snow 2: Brain Freeze
: Once again a version of Santa Claus leaves the North Pole and finds true love, this time chasing a stray reindeer to a zoo and falling for a zookeeper who, the following year, must save Christmas when Santa gets amnesia. As with most franchises, the original is better than the sequel, but Tom Cavanaugh fans should really just watch Hallmark Channel's
Trading Christmas
to get their Ed fix.
Santa Baby
and
Santa Baby 2
: No, you're not experiencing dejavu. And you don't have an amnesia-like brain freeze. ABC Family did, in fact, make two Christmas movie series that are exactly the same except one stars a man and one stars a woman. The
Santa Baby
movies are basically Santa's daughter trying to decide if she wants to join the family business and stick to her roots. Even Jenny McCarthy can't make this right, and once again, avoid the sequel since her boyfriend changes from That Cute Guy who was on
Crossing Jordan
to Some Guy You've Never Seen Before. And as a note to all made-for-TV Christmas writers, if the conniving elves didn't work in
The Santa Clause 2
and
3
, why would they work on television?
Stay-Aways
Christmas Cupid
: Christina Milian gets the
Ghosts of Girlfriends Past
treatment on the small screen so she can end up with Chad Michael Murray. At least, I think she ends up with him. I never made it to the end. Just watch the Tristan episodes of
Gilmore Girls
if you need a CMM fix. This one is just a no.
Snowglobe
: Christina Milian gets trapped inside a snowglobe. Double no.
And I love how this picture captures the substance of two equally bad made-for-TV Christmas movies with one image. Christmas Cupid in a Snowglobe.